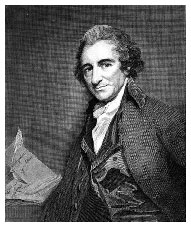 Thomas Paine
1737-1809
Common Sense was published in January 1776 and widely read throughout the colonies. The idea of fighting together against England as a single people was not yet agreed. Whereupon Thomas Paine wrote:
Europe, and not England, is the parent country of America. This new world hath been the asylum for the persecuted lovers of civil and religious liberty from every part of Europe. Hither have they fled, not from the tender embraces of the mother, but from the cruelty of the monster; and it is so far true of England, that the same tyranny which drove the first emigrants from home, pursues their descendants still.
In this extensive quarter of the globe, we forget the narrow limits of three hundred and sixty miles (the extent of England) and carry our friendship on a larger scale; we claim brotherhood with every European christian, and triumph in the generosity of the sentiment.
<!~~ end div.image_def ~~>