FINANCING ISRAEL'S TRADE and NATIONAL DEFICITS
How Israel's external debt is financed
Israel's falling average terms to maturity
Please click on graph to return to main menu.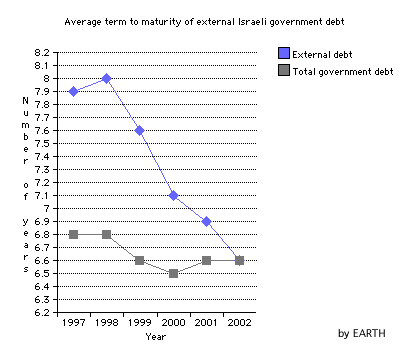 Note 1: In 1998 the guaranteed loan program sponsored by the United States government came to an end. Reinstatement of the program in 2003 was expected and has apparently been approved. Source: United States Government. US Department of State. Press statement by Philip T. Reeker, Deputy Spokesman, 23 June 2003 [online document] (13 June 2004). EARTH's copy available on request.

Note 2: Long debt maturities enhance a government's ability to manage debt by providing more opportunity to raise money as debt issues mature and new money must be raised.
Source: Government of Israel. Ministry of Finance. Government Debt Management Unit. Annual Report 2002. [online document] EARTH's copy is available on request.
top