FINANCING ISRAEL'S TRADE and NATIONAL DEFICITS
How Israel's external debt is financed
Israeli external debt by type of financial instrument - 2002
Please click on graph to return to main menu.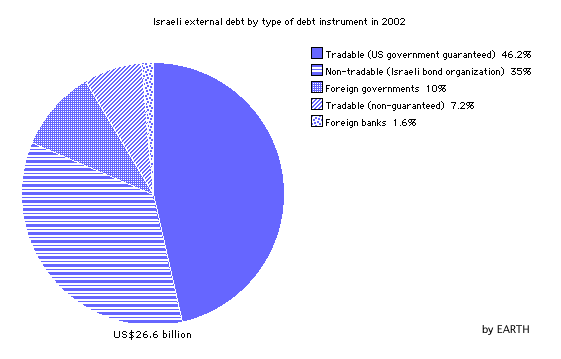 Note 1: In 2002 Israel's total external debt measured was US$26.6 billion. Nearly half of this amount was guaranteed by the United States government in the form of tradable bonds. More than a third of it was secured through nontradable bond placements (new window) sold through The Development Corporation for Israel. The approximately 20% remainder was covered by foreign governments and banks, as well as non US-guaranteed tradable bonds (new window).

Source: Government of Israel. Ministry of Finance. Government Debt Management Unit. Annual Report 2002. [online document] EARTH's copy is available on request.
top